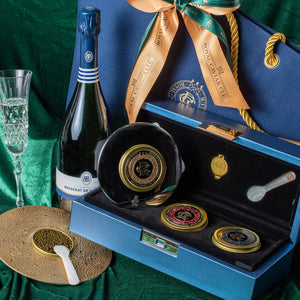 Package Inclusive of: 
Royal Cristal Caviar 30g
Imperial Ossetra Caviar 30g
Premium Baerii Caviar 30g
Small Silver Caviar Ring
Besserat de Bellefon Bleu Brut NV Champagne 750ml
Trio Box Gift Set (with 2 x Mother of Pearl Spoons and Tin Opener)
Beach bag


About The Caviar Ring:
Caviar Ring by Royal Caviar Club is a premium caviar disc that has revolutionised the way caviar is enjoyed. Caviar Ring is a one piece folded container designed to accommodate 30g & 50g caviar tins, with built-in food-grade ice-scientific technology that enables it to be used as a Caviar container.
Traditionally, Caviar tins are places directly on ice to keep the caviar fresh. However, this method often results in water droplets forming on Caviar tin, leading to penetration and affecting the appearance and texture of Caviar. Additionally, the ice temperature is too low, preventing caviar from reaching its best eating temperature of 3°C to 6°C. The Caviar Ring addresses these issues by maintaining Caviar at the optimal temperature for up to one hour, allowing for a more elegant and enjoyable Caviar Experience. 
INNOVATIVE SOLUTION FOR ENHANCING FRESHNESS AND DELICATE TASTE OF CAVIAR
USER GUIDE
. Rinse with water or with neutral detergent and wipe gently with a cloth.
. Store it in the freezer (0°C to -18°C) for 1 to 2 hours before usage.
. Place the Caviar tin into the holding of the Caviar Ring and enjoy!
. Caviar Ring should not be placed in the dishwasher. Please avoid placing more than one Caviar Ring or other tableware into the sink while cleaning to prevent damage.