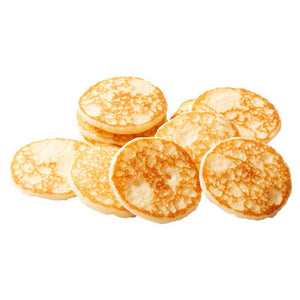 Blinis are yeasted pancakes, traditionally from Russia, made with wheat flour. They are a great way to present caviar or smoked salmon with sour cream at parties.
Oven:
Preheat your oven to 350°F. Remove frozen blinis from their tray and place them on a baking sheet lined with parchment paper. Reheat for 7-8 minutes.

Microwave:
Remove frozen blinis from the plastic bag and their tray and place a maximum of 8 units on a plate. Microwave for 40 seconds at 750W.
---